Welcome to your Monthy Market Snapshot! On the second Thursday of each month, we'll post a snapshot of essential stats of the New Orleans Metro Real Estate Market for Single-Family Detached Homes. Drop us a line here if you wish to see stats specific to other areas around Nola!
Below you'll find graphs for each stat in the graphic above. The charts are over a year to see the difference between 2022 & 2022. Metric definitions can be found at end of the post!
Questions? Reach out to one of our advisors for a chat!
New Listings are down 16.1% from 2021. Following the economic commotion, sellers are starting to think twice about listing their homes.
---
Pending Sales are down 11.8% from the previous year and down 5.1% from June. With interest rates rising, some buyers are trying to lock in their rates while others are taking a step back to evaluate the market after seeing the change in what they can afford.
---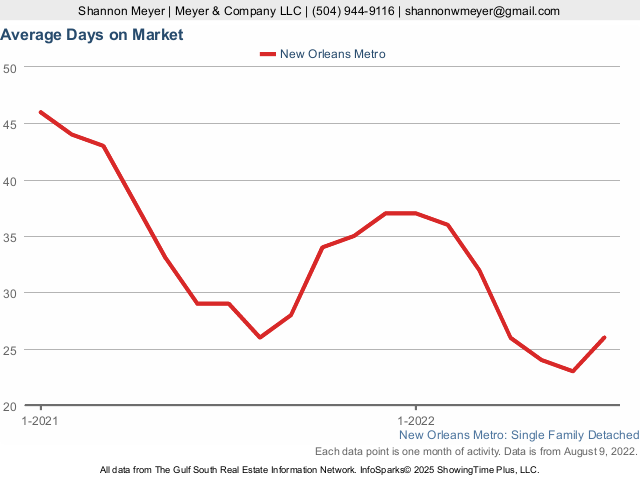 Though homes are still spending 10% less time than in July 2021, they are spending 13% more days on market than in June 2022. This is another indicator of the marketing slowing down.
---
The Average Price per SqFt has increased to $171, 7%,  from 2021, but has decreased by 5% from June. Remember, this is the number in the New Orleans Metro for Single Family Detached homes. This doesn't mean that your home has the same Price/SqFt since it depends on your location, home condition, home type, and more. Still, we can see that though real estate values have been appreciating year over year, we're seeing some depreciation from June to July. This is to be expected with interest rates increasing, and we'll be monitoring along with Months Supply.
Homes for Sale are up 15.6% from 2021. Along with the decrease in new listings, the market is slowing down.
---
Closed Sales are down over 20% from 2021 and 17% from June. Like pending sales, rising interest rates are causing some buyers to pause their journey after seeing the change in what they can afford, meaning that buyers that need to sell to buy are also slowing down.
---
We use this metric to aid in the determination of the type of market we're in:
If MSI<4 then we're in a Seller's Market.
If 4<msi<6 then="" we're="" in="" a="" balanced="" market.<="" li=""> </msi<6>
If MSI>6 then we're in a Buyer's Market
Based on the homes that were active in June if no new listings are added and the buying pace stays the same, the market would only have 2.5 months' worth of inventory. That's up over 31% from last year AND up 8.7% from June which means we're moving towards a Buyer's Market.
---
The average number of showing a house gets before pending or under contract has decreased by 16% to just 10 showings, and compared to June it has increased by 11%. This means that if you're a seller, you should pay close attention to the number of showings you're getting. If there's no offer after 10 showings, be prepared to discuss the list price with your realtor.
Definitions:
New Listings: A count of the properties that have been newly listed on the market in a given month.
Homes for Sale: The number of properties available for sale in active status at the end of a given month. Also known as inventory. For this metric, the "12/6/3 months" calculation is the average of the most recent 12/6/3 months of data.
Pending Sales: A count of the properties on which contracts have been accepted in a given month.
Closed Sales- A count of the actual sales that have closed in a given month. Calculations are based on sold data.
Average Days on Market: Number of days between when a property is listed and when an offer is accepted in a given month.
Months Supply: The inventory of homes for sale at the end of a given month, divided by the average monthly Pending Sales from the last 12 months. Also known as absorption rate.
Price Per SqFt: Calculations are based on sold data. Prices do not account for seller concessions. Average is the mean sales price for homes sold in a given month divided by the number of finished square feet
Shows to Pending: The number of showings scheduled per listing before it was pending, under contract, during the selected reporting period.
Questions? Reach out to one of our advisors for a chat!